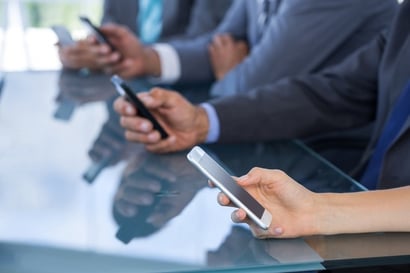 Just because you have employees who are on the go doesn't mean that your ability to manage your documents should suffer. In the past, you had to wait for an on the go employee to get back to the office before they could share or interact with your company's documents. Mobile document management is changing this dramatically. Here are a few ways in which you can benefit from mobile document management right now:


Your employees will be able to access documents via a dedicated mobile app
A mobile app for document management provides a full suite of document management capabilities via a device that may be smaller than your employee's hand. This allows them to have the same operating power that your document management system provides when they are sitting right in front of their computer in your office.


Your employees will be able to add documents to your system from anywhere
In some cases, you will need an employee to forward you a document ASAP. However, email is not always the most reliable or most secure channel to do this, especially for larger documents, which email servers tend to reject entirely. Mobile document management systems are capable of copying and uploading any volume of data instantaneously.
This also provides benefits for sharing paper documents on the go. There are many mobile scanning solutions available to you. When combined with mobile document management, a paper document can be scanned to a smartphone or tablet and then immediately uploaded to your company's server.


Your employees will have pre-made templates to streamline their document creation, no matter where they are
Crafting a document from scratch takes time. If an employee is away from the office, they likely don't have the time to effectively do this. A mobile document management system will enhance your employees' ability to create the perfect document for a situation via mobile templates. This also makes document creation easier on mobile devices, which can make it difficult to properly format a document.

Verification and document sharing can happen from anywhere
What if a very important document needs a person's signature or approval, and only they can sign off on it, but they are on vacation? In most cases, you would be forced to wait for days – or even weeks – until that employee returns. However, mobile document management presents you with the ability to let an employee know about the document and get them to e-sign it in seconds, without disrupting their vacation.


Your employees will be able to multitask better
In some cases, a member of your team will need to visit clients, business partners or colleagues far away from the office. At the same time, this may be the only person who can effectively handle a critical document that your company is expected to receive. This is just one way in which restricting your documents to traditional computers makes it difficult for your employees to multitask. In the aforementioned case – and many others – mobile document management would allow your employee to complete all tasks at once. This is because accessing and managing a critical document can be done under almost any conditions, even if there is no Wi-Fi or a place to set a laptop nearby.


On the go doesn't mean out of the loop
An employee who is away from the office doesn't have to be sequestered from your company's document management system. In fact, they can see, manage and create documents as if they were right in front of an office computer with a good mobile document management system.