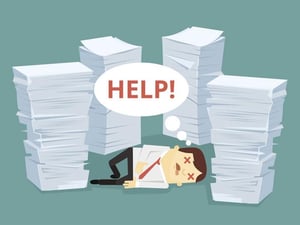 Document scanning has never been more cost-efficient and important for businesses than it is today. It is an essential part of keeping your business organized and ensuring you keep up-to-date with your compliance requirements. However, the trouble is that it can be difficult to keep up-to-date with document scanning trends and document scanning best practices if this is not the core ability of your company. However, there is no need to fret, as that is why we have put this blog post together. Read on to discover some of the best practices for paper scanning. There are all little changes that will make a big difference at your organization.
Understand your needs in terms of workflow
The first thing that you need to do is understand the unique needs of your business in terms of workflow. What are your document retrieval needs both now and in the future? After all, going completely paperless is something that may make sense for one of your departments yet it may not make sense for the full enterprise. If this is the case, you may not need to scan each and every document.
Make sure your expectations are realistic
Once you have figured out what you need in terms of workflow, it is going to be a lot easier for you to zone in on your expectations. A lot of business owners make the mistake of setting their expectations too high. Unfortunately, there is no magic formula when it comes to the next prototypical step for the imaging process. Extracting text by scanning documents can be anywhere from around 85 to 95 percent accurate. It all depends on how much, if any, fine-tuning the OCR system has received.
Back-ups are a must
The last thing that you want to do is spend hours re-scanning tons of your work because your computer has unexpectantly crashed. Luckily, this is something you are never going to need to worry about if you set up a secure file backup system for all of your files. If you keep forgetting to backup, there are a number of different things you can do, for example, you can sign up for an automatic backup service. You can also use appointment software to schedule reminders. How frequently you need to back-up your files will depend on the volume of them. This could be after every file, twice a day, or every hour. At an absolute minimum, it should be at the end of each day.
Prepare your documents
You need to make sure your document is prepared for conversion. Before you scan any documents, you need to make sure that dog-eared pages and torn pages are fixed, as well as removing sticky notes, staples, and paperclips. It may not be the most exciting task in the world but you will thank yourself for it later! You should also make sure that skipped pages are avoided during document imaging by having a page count comparison done for each file.
Get naming conversions right
One of the biggest problems when it comes to document scanning is absent or poor naming conversions. The biggest sin people make is not naming the document properly. It can be tempting to use a handy name that simply comes to mind rather than having a system in place. Instead, you need to choose names that are going to enable you to logically find the document at a later date. Having a simple naming system in place can make all of the difference.
Develop an efficient document scanning system
Aside from the tips that have already been mentioned, an efficient system is a must. Determine a regular scanning system, and then make sure you stick with it. Make sure regular software and system training is scheduled for all of your staff members; both new and existing. This is essential for efficient document scanning and cyber security too. You should also look into the perspective of hiring casual staff or making the most of a temp agency during high document scanning periods, for example, yearly archiving, tax times, and end of the month. Whenever possible, you should book ahead for the same temp.
As you can see, there are a lot of little changes that you can make when it comes to document scanning at your business. It is all about putting in a little bit of effort to make a big difference. If you follow the advice that has been provided above, you can make sure you handle your document scanning requirements as efficiently as possible at your business.