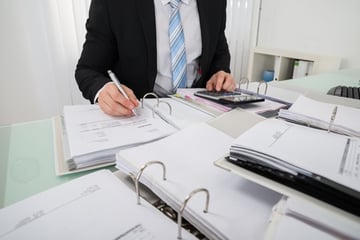 If you work in an office, you have some kind of record management. Even if it is simply filing cabinets, you've got a process in place to make sure that you find crucial documents when you need them. But not all record management systems are created equal. Many paper-based systems and inefficient shared drives cause delays in processes and create a lack of visibility in your overall system.
This is where a better system can save you time, money and allow you to access crucial information when you need it fast. So if you're wondering whether it is time to upgrade your record management system, here are 5 signs it is time.
You Still Use Filing Cabinets
If you are still relying on filing cabinets to store critical data, it's time for an upgrade. Not only are filing cabinets labour intensive, requiring a lot of time just find the document you need, but they involve the risk of unauthorized access and damage in case of fire or flood. By upgrading to a modern system, you access a file quickly at your desk and ensure only certain people have access.
It's Hard to Find the Documents You're Looking For
If you are using a document management system like a shared drive, it can be hard to find the document you are looking. Staff follow different naming conventions and the information architecture can be a disaster. A modern system uses meta-data and other relevant searchable features to make it easy to find your documents.
You Don't Have Your Processes Automated
If your accounts payable, receivable and other document processes aren't automated, you are wasting valuable time getting your documents from one person to the other. A modern record management system provides gives you the ability to route documents automatically, saving valuable time and allowing you to receive status updates automatically.
You Aren't Sure What Version You're Working On
Shared drives can be a hassle for working on documents because often many versions of the same document wind up in the same place. There are ways to get around this that are slow, cumbersome and not always foolproof. With a modern document management system, you get the best of both worlds. You'll know exactly which version is most recent while also being able to see previous versions.
You Can Only Access it At Your Work Computer
If you can't access your documents at homes or with a mobile device, it's time to get a better system. MES Hybrid Document Solutions stores all of our files on the cloud, meaning you can access them anytime, anywhere.
Get yourself a records document management system and start enjoying these benefits and many more! Contact for a free quote or for more information.