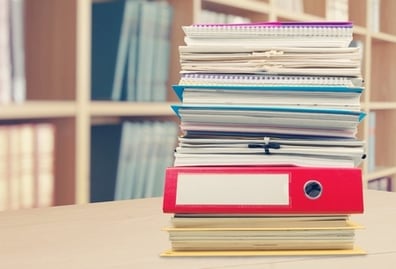 Is your business disaster proof? No building, or location is 100% safe, and there's always the risk that disaster can strike and you need to be ready. You've likely already purchased insurance to protect your critical business assets in case of damage - that's because you know the importance of mitigating risk. But have you done the same with your records with a records management system?
A records management system is like insurance for your documents. A natural disaster like a flood, tornado or even just a business fire can cause you to lose everything. Not only can your physical records be damaged by any of these events, but your digital records can as well if they have not been properly backed up. Fortunately, you can mitigate the risk to your business caused by an unexpected disaster with a cloud-based record management system.
How Does a Record Management System Protect Your Documents from Natural Disasters?
It Ensures You Have Digital Copies of All Physical Documents.
When you invest in a records management system, you can rest assured knowing that all of your paper documents are backed up and secure. Best of all, moving forward you can go paperless with your documents entirely, lessening the impact of a disaster on the daily operation of your business
It Makes it Easy to Search for Crucial Documents in Case of an Emergency.
If a disaster like a fire or flood does occur, you are going to need access to critical documents like your insurance policies right away. Fortunately, a records management system makes it easy to search for all your key documents.
All Files are Stored on the Cloud, Not on Your Servers.
Even if you have digitized your documents, a disaster can have a serious impact on your records as critical digital storage infrastructure might be damaged. This can make it difficult to access and recover your files. A cloud-based record management system eliminates this problem by storing your documents on the web.
It Allows You to Access from Anywhere
If disaster strikes and you can no longer use your office space, a document management system makes it easy for your team to work from anywhere. That means you can all get back to work right and keep your business functioning with minimal disruption.
It Offers Outstanding Security
Disasters aren't always natural. A disaster can also be a hacker breaking into your computer system and stealing critical company data. The right document management software can prevent this from happening by offering leading security features to keep your documents safe and out of the wrong hands.
Don't be a victim of bad circumstances and poor planning. If you want to make you records disaster proof, MES Document Systems offers the perfect solution for you. Contact us for more information.