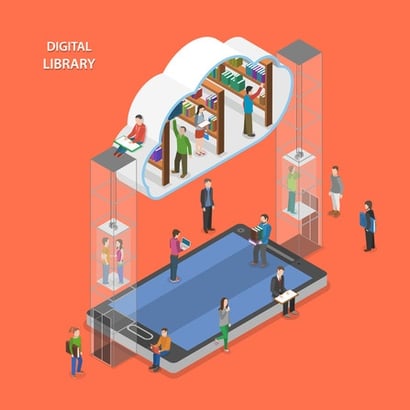 Libraries provide people with free access to an otherwise obscure wealth of information. Because of this, they have been important parts of society for generations. Despite the growing use of modern technological resources to obtain information, libraries continue to be instrumental tools for retaining, protecting and sharing documents. With digital technology influencing our lives more every day, however, it is clear that libraries have to adapt. But what does this mean? Let's take a look at what modern libraries are doing right now for the future, and how your library can adapt as well.


What will the libraries of the future look like?
Online accessibility
Many archives already provide scholarly journals via the web; libraries are expanding this to include books, older articles and other documents that are normally only available in physical form. Thanks to enhanced document scanning methods, this includes larger, older documents that normally require special care to even be stored. Such libraries are known as online digital libraries.
Smaller facilities
As an online digital library enhances its technology use, its facilities will rely less on accessibility, and focus more on the storage of original documents. Because there will be less of a need to accommodate people and easily accessible shelves, library facilities will become smaller.


Why are libraries making these changes?
Easier data access for those who libraries service
Because of the saturation of internet-capable devices, the best way for people to search through archived data is via an online digital library. This also enhances a library's ability to share documents, since the number that you can share is not limited to how many physical copies you have on hand.
Better protection of archived data
As it ages, physical archived data becomes extremely vulnerable. In some cases the slightest breeze, quite literally, would destroy a document. By going digital, a library can store and share all documents without worrying about their accidental destruction.
More efficient document storage
As you know, documents take up a lot of space. As your library obtains more documents, your need for more storage space simply expands. Becoming an online digital library allows you to optimize this storage by storing away physical documents more efficiently, and only obtaining digital versions of documents in the future.
More efficient library budgets
Managing a large volume of physical documents is expensive, especially for documents that require special conditions for storage. Being an online digital library allows you to minimize the cost of storage solutions for your documents.


How will this happen?
Deciding to become an online digital library is just the first step. In order to make this happen, you must also do the following things:
Scan all of your documents
Your library has thousands of books, articles, magazines, etc., so this can seem like a daunting task. The key here is to not approach the document scanning process alone. Instead, hire a professional document scanning service that will quickly and securely scan all of your documents while preventing damage to them.
Make your digital documents manageable
Even in digital format, a document can be difficult to manage. In order to make your newly digitized library archives easily searchable by the public, you must add document management software to your computer system. This will convert all of your documents to text files and make them indexable for easy searching within your system.


Start preparing your library for the future right now
You do not have to wait to start adapting your library to become a modern online digital library. The tools that you need to make these enhancements are available to you right now.