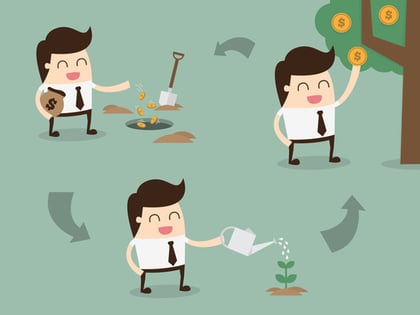 You have invested in a document management system. It has transformed your office, and seemingly made everything your company does more effective. You can see that your document management system helps around the office, but you aren't sure how to measure the tangible value that you gain from it. You must be able to measure the value of your system in order to optimize its capabilities and to ensure that everyone within your organization fully understands the importance of using it.
Fortunately, the ROI that you get from document management is very tangible. You just need to know what to look at. You can show your document management ROI by taking the following four steps:


Analyze your document-related cost savings
A solid document management system will create a significant reduction in your paper use. This will be the most obvious form of document management ROI, because you'll notice a significant drop in your company's expenses each year.
This difference is especially extreme when your company goes digital. Yale University, for example, managed to save over a hundred thousand dollars each year by switching a single function of just one department to digital.


Take a look at your added efficiency
One of the most important forms of document management ROI that isn't quite as tangible as a lower paper bill is your increased operational efficiency. A strong document management system will make this happen in two ways:
Faster document access and management
A good document management system will make accessing your documents as easy as a Google search. This will save you thousands of man hours each year, because the seemingly simple act of searching for a single document will take several minutes to over an hour.
Fewer document management steps
There are many steps involved with processing a document. Processing a single invoice, for example, will require you to gather customer information, input customer information, send the invoice to the correct people, gain confirmation of receipt, make adjustments to any human errors, and then finalize the invoice so that service can be rendered.



When you have a streamlined digital document management system, many of these steps will happen autonomously. This frees up hands within your company to complete other tasks. In addition, you will get added ROI from increased consumer goodwill, since fewer steps means that you can help your customers faster.
Consider the value of enhanced document security
The loss of a single important document could cost your company hundreds of thousands of dollars. If your document security isn't up to par, then an important document could be stolen, or even accidentally destroyed.
That is why the value of each document that you possess should be counted towards the security portion of your document management ROI. The more secure your documents are against natural disasters, theft and accidental destruction, the better off you are.


More office space
You have to pay for every inch of office space that your employees use. If piles of paperwork take up a lot of office space, then you have to pay for this as well. A solid document management system will reduce this cost by getting your paperwork out of the way. Every inch of office space that is saved in this manner can then be used for other operations. This also means that your company can afford to invest in a smaller, less expensive office space.


How valuable is your document management system?
In addition to showing you how valuable your document management is right now, analyzing its ROI will also show you where you can improve it.