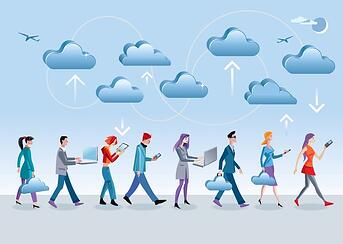 Advancements in technology, coupled with the demands of business, have resulted in an increasingly mobile workforce. A rise in remote workers, as well as employees who are constantly out of the office developing business and meeting clients, has created a need to ease collaboration and resource-sharing among people working in different locations. Here are a number of ways that your organization can respond to the needs of your mobile workforce, in order to equip them with the tools they need to be successful.
Cloud-based communication services
There are a number of cloud-based services specially designed to enable mobile data management, collaboration and communication among workers in various locations. The advantage of the cloud is that it allows any person with the necessary access credentials and a reliable internet connection to get the information they need anytime, anywhere. Things like cloud email services, project management tools, and an endless number of mobile productivity apps allow your mobile workforce to stay connected, regardless of where they are.
Improved Document Management
Traditional methods of document management are quickly becoming obsolete – if they aren't already. Organizations that use primarily paper-based documents and processes are falling behind, unable to properly support workforce mobility. Even those using shared drives or other electronic means are running into barriers. As a result, many businesses are turning to cloud-based document management systems that allow them to keep documents in a single, centralized place that can be accessed by employees working remotely. These systems ensure that every member of their mobile workforce has the means to access the documents they need to do their jobs correctly and efficiently.
Real-Time Information Sharing
With the tools mentioned above, organizations will be able to facilitate real-time data sharing with workforce mobility. Business intelligence, historical customer data, and a variety of other knowledge assets will be able to be shared in real time to help mobile workers make informed decisions on the go. Leveraging real time data will help define and drive new organizational strategies and empower mobile workers to solve problems easily and more efficiently through mobile information management.
In a business environment that increasingly demands better communication and collaboration between workers in different locations, remaining competitive means equipping your mobile workforce with the tools they need to succeed in their roles. The strategies listed above can help businesses stay ahead of the curve by promoting easy, real-time data sharing through workforce mobility.