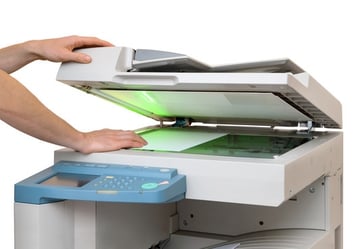 Even if your office is already paperless, you will still have to deal with an occasional influx of paper documents. The best way to manage these is to immediately convert them into digital files so that they can quickly be integrated into your paperless office system. In order to do so, you'll need to scan them. Improperly scanning your paper documents, however, will exacerbate the length of the process and possibly harm the quality of the scans. That's why it's essential to have a system in place to effectively convert your documents. Here is how to scan documents properly for best results:
First things first: invest in the right type of scanner
You cannot start thinking about how to scan documents without having a scanner to get the job done in the first place. That being said, you need the right type of scanner – without the right tools, a task gets tougher; scanning is no exception to this rule. That is why investing in the right type of scanning for what you will be doing is where you need to start. You need to consider the following two factors when choosing a scanner for your needs:
Scanner format
Your scanner's format should be able to handle the shape, size and material of your scanned materials. For example, if you need a book scanned, then you shouldn't be using the same type of scanner that is optimized for sheets of paper (there are scanners optimized specifically for books). If you have multiple types of documents to scan, then you should consider investing in multiple types of scanners.
Scanner volume and speed
If you expect to scan over 75,000 pages per day, then a scanner that can only handle 1,000 pages per hour just won't do. Don't settle for a scanner that cannot meet your volume and speed requirements because it will end up being more of a limitation than a help.
Have full document conversion software already in place
As soon as you scan a document, its contents should be extracted, converted to the proper file type and indexed into your archives. You shouldn't be trying to do this by hand because you will end up wasting time and subjecting your documents to the risk of human error. You need good document conversion software, which can handle all of the tasks you need in seconds.
Repair document damage beforehand
A damaged document can deliver faulty or missing information – or even cause damage to your scanner. To prevent this from happening, make sure that you repair all crumples, rips, etc. before you start scanning.
Clear your documents of all obstructions
Paperclips, staples, bindings and other obstructions will block out content and make it harder for certain types of scanners to process your documents. To alleviate this problem, make sure that you remove all such hindrances beforehand. The sole exception to this rule would be books that have permanent bindings. Instead of destroying them in the process of scanning them, invest in a scanner specialized to handle the unique format of a bound book.
Make sure that you convert your documents to the right type of file
There are thousands of file formats to choose from, but there is only one that is right for your document. To make sure that it ends up as the correct file type, be sure to set it through your scanner and/or document conversion software before beginning.
A streamlined scanning process will enhance your productivity
Now that you know how to scan documents with maximum efficiency, you can start to get the most out of your paperless office.