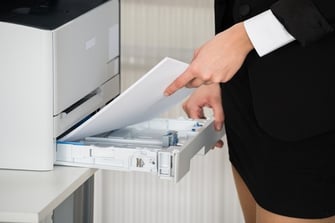 If you stacked all the paper generated each year in American offices, it would be 18, 000 times higher than Mount Everest. The world is still far behind its goal of achieving a paperless society, but in 2016, The Wall Street Journal declared that it had at last become possible. Previously, hardware couldn't turn all documents into editable data, but the paperless revolution has begun. For the first time, office paper usage is declining by 1 – 2% annually, and you don't need to clear out your whole expense account to benefit.
Scan-to-zero is an innovative technique for implementing a paperless business on a budget. Document conversion is implemented across departments over a rational schedule that remains within your financial goals. By slowing down the process and using a snowball effect, your objective becomes within your reach. A hybrid document management system puts every document at your fingertips, creating an integrated management system and a strategy for your future filing, storage, and retrieval.
The Process
The scan-to-zero document scanning management technique entails reducing your storage and scanning costs along a gradual trajectory without putting any of your data at risk. A schedule is arranged that remains within the confines of your document management costs and a goal driven approach ensures that your ultimate objective is reached even if you're working on a shoestring budget. A systematic approach is key. Safe document disposal and secure, encrypted digital storage need to occur alongside staff training so that your business is ready the moment the first document is shifted into a digital sphere. The system ensures that documents aren't exposed to hacking and other cybercrime at any point.
The Power of Planning
A timeline will be created with incremental goals so that your document scanning management remains productive. Structure creates stability, particularly with a goal as daunting as this. Think of scan-to-zero as the document storage version of a debt snowball. The closer you get to your goal, the easier it is to reach because each department that achieves a paperless office stops producing further paper documents requiring scanning. The more you achieve, the faster you can reach the goals ahead. Even the smallest beginning is an important one.
The Benefits
As tablet and smartphone usage rises, more and more offices are not only reducing paper documents but human assets, too. Increasingly, employees are working remotely, on the road or from home. Office expenses are reduced and productivity soars. The cloud and staunch digital security have made this possible, and it's well within your reach.
The benefits of a paperless office extend to every department of your company, from human resources to IT and marketing. With all documents accessible all of the time from anywhere, employees can not only access records lightning fast, but also run the kind of analytics that have a direct impact on your profits.
Today's corporation must continually assess its management strategies and adjust to bring improvements. It's only digital documents that let you run the analytics required to achieve this, but there are several other advantages. With documents stored on the cloud, remote access puts incredible power in the hands of traveling staff. The eco-system benefits, too, of course, and storage costs are eliminated. Documents are also more secure in digital formats and far less prone to decay.
Imagine an office in which everything from bill and staff payments to marketing are fully automated. Digital storage makes that possible. In fact, much of your document scanning management process can be automated, too. It's about time your office joined the paperless revolution. You deserve it.