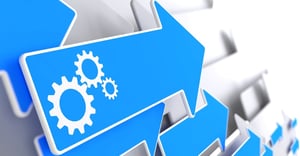 According to a recent study, over 80 percent of organizations feel that a digital transformation is necessary to prevent upcoming disruptions to their business models. One of the main keys to digital transformation is adopting business process automation, but not everybody knows how to get started with this. Today you'll learn how enterprise content management (ECM) software can help you tackle business process automation and help you safeguard your organization against future disruptions.
Embracing ECM Is Embracing the Digital Transformation
The majority of organizations today realize that automation is a necessary step they'll have to take in the next few years. In fact, according to the Alaris Partner Council, as many as 85 percent of businesses understand that failing to digitize and standardize is a major roadblock to digital transformation. Fortunately, implementing ECM can help you achieve digitization and standardization because the entire purpose of this software is to help you replace inefficient and outdated manual processes with automated digital ones, and this includes processes like invoice processing and employee management.
Configurable Solutions Let You Customize Automation
There's a problem with the traditional ECM model, however, and it's this: the Alaris Partner Council found that 70 percent of organizations prefer customizable content services rather than the all-encompassing model that's typical with ECM software. The solution, then, is digital document management in the form of modular process automation applications that can be integrated into your content services strategy as needed, instead of using SaaS that only delivers a ready-made and single-process solution.
Automating Employee Management Operations
There are many ways your company could benefit from automating employee management, and just about every aspect of this operation can be digitized and automated. Here are just a few ways that the right ECM software can help you automate employee management efforts:
Handling all the data collected during recruitment
Collecting and organizing data after onboarding employees
Maintaining centralized records that can be accessed as needed (with different permissions) by managers, human resources, and employees themselves
Monitoring performance and creating assessments for annual reviews
Managing data and following due process when an employee is terminated
Simplifying Invoice Processing and Increasing Productivity
Another way you can conquer business process automation is by using ECM software to automate and optimize your invoice processing capabilities. For instance, you can use the software for data capture with incoming invoices, to validate vendor and invoicing data, to set up automatic notifications for exceptions and to integrate invoices with your existing bookkeeping software.
ECM software is designed to facilitate data capture, management, and storage through the digitization of processes. With the right software in place, your organization will be well-positioned to embrace business process automation, including in areas such as employee management and invoice processing. And once you automate these and other processes, you'll be able to increase productivity, reduce errors, and maximize efficiency, and you'll also be in a much better position to combat any future disruptions that could impact your business model.