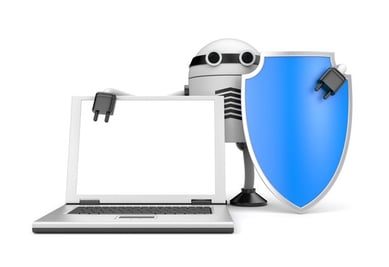 No matter what risks threaten your company's data, total document security is possible. As you know, document security is not something that just happens, so you need to actively take steps to protect your company's information – simply putting everything under lock and key is not enough. That being said, here is what you need to do:
Take advantage of the benefits of digital security
The first step that you need to take towards gaining total document security for your company's information is to throw away the lock and the key – literally. Physically secured data can easily be accessed by anybody with a set of crude tools and a few moments of time. Converting your documents to digital files is the first step towards total document security because digitized information can be protected in a myriad of ways (even if someone somehow got their hands on the storage device for your digital data, it is still unlikely that they would be able to access it).
Don't let just anybody convert your documents to digital files
Although converting your documents to digital files represents a huge leap forward for your ability to secure your documents, you still must protect your documents during the conversion process itself. First and foremost, you should always have your documents converted by a professional document scanning company. However, not even all professional document scanning companies will offer you the security you need. Here are the protocols and capabilities your document scanning company should have for maximum security throughout the entire conversion process:
Free of potential risks
In order to weed out potential data thieves who would steal your documents before they even had a chance to be converted to digital files, your document scanning company should conduct full background checks on all of its employees.
Protected digital assets
To prevent your newly digitized documents from being stolen before you officially have them, your document scanning company should have a full suite of digital security capabilities, including:
A firewall

Antivirus software

Protocols that disallow remote access
Federally Certified Controlled Goods Facility
Full registration and certification with Canada's Controlled Goods Program is a must. This program "plays a vital role in the prevention and detection of the unlawful examination, possession or transfer of controlled goods in Canada."
No outsourcing
Outsourcing any elements of the digital conversion of your documents puts additional hands and eyeballs on all of your data, including the most sensitive parts of it; this significantly compromises data security. As such, it is imperative that you work with a document scanning company that doesn't outsource any processes at all.
Continue to protect your documents after they have been converted
Do not make the mistake of thinking that your digital documents will be completely secure just because the conversion process went off without a hitch. Your data can still be stolen, damaged or destroyed by outside entities if you do not take care of it. You still need to secure your documents by taking the following steps:
Have you made your documents secure enough?
Document security is something that you have to make happen. You can get this done by storing your documents in a more secure format like digital and in a secure manner that protects your data from everything like a petty thief to Mother Nature's wrath.