With simple touchscreen commands and easy to follow instructions, the UScan microfilm scanner is an affordable plug-and-play scanner with single cable connectivity. Ideally suited for libraries, it is whisper quiet, with an optional pay-per-use interface. The UScan can take the place of four separate microfilm scanners, making it the easiest, fastest and most cost effective way to scan multiple film types with a single unit!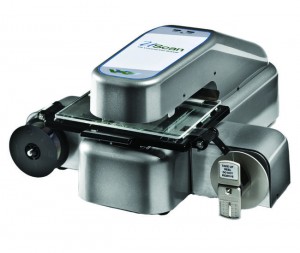 The UScan embodies economy of scale with its ability to read, scan, print, email and save images from roll microfilm, microfiche, aperture cards and photographic materials.
Taking the place of four - yes four - separate scanners, and scanning in color, bi-tonal and greyscale, the compact design and multi-use functions of the UScan microfilm scanner create an ideal unit for walk-up patron/on-demand use that is needed in libraries.
Easily fitted with pay-per-use and follow-me capabilities, the touchscreen commands are simple to follow. The solid base and low maintenance requirements allow for high traffic. The image quality is excellent, and the unique Kensington lock system ensures the unit will stay put even in a public venue. These and other features are what make the UScan microfilm scanner an industry best-in-class.
On-Demand Multi-format Scanning
Digitize your microfilm collection regardless of format (roll film, microfiche, aperture cards, micro-cards and photographic slides)
Scan, Print or Save
Output options designed to match your needs including save to USB, print, email or network shares all in black and white, greyscale and even full colour
Rapid Scan
Option Auto-scanyour roll film with motorized film advance and automatic frame detection
One-Button Capture
Automatic frame detection quickly identifies and captures images without the need for constant adjustments
Need some more information? Would you like to schedule a demo? Contact us today!