A document management system like FileBound On-Demand is something you probably never though it could be: affordable. Business both large and small can benefit from this amazing system without the up-front expenditure, risk or complexity of an installed solution.
FileBound On-Demand is truly a low-cost solution that is surprisingly simple to set up and learn, with immediate results.
Scanned paper documents, faxes, emails, electronic form (e-forms) - all of this content is saved and indexed directly right into your own secure FileBound space in the cloud.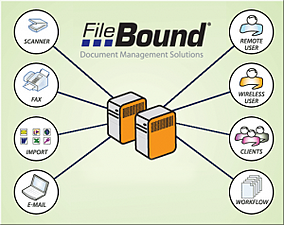 Predictable monthly operating costs
Automatic upgrades to the latest version
Lower financial risk
Minimize internal technical resources and infrastructure
And so much more!
There are many outsourcing benefits of FileBound On-Demand, low cost is a major one. For all who believe that a document management system such as this is too expensive, or not possible for smaller companies, we're here to tell you that's simply not true!
Contact us for more information, an online or in-person demo!