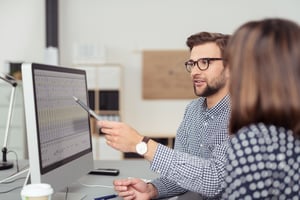 You may have heard that the accounts payable section of many businesses is experiencing somewhat of a shake-up. Automation is coming. Specifically, AP invoice automation is integrating into many different companies, adding more technology to the process of handling financial transactions that are coming into and out of a business.
You may be curious or maybe even a little afraid of what AP invoice automation means, but should you be? Here are the things your boss wants you to know about this new technology.
1. You're Not Getting Laid Off
When most people hear the word automation, they imagine workers in a factory losing jobs because robots have come to replace them. In this case, AP invoice automation isn't about putting people out of work; it's going to help employees do less tedious work.
For example, if you have a regularly paying client that always sends in the same amount every month, with no irregularities or problems, then processing is mechanical work. It requires no thought or initiative on your part to make sure everything is in order. AP invoice automation can handle these routine transactions, so you don't have to. Automation for invoicing isn't about getting rid of staff. Instead, it lets staff do more relevant work.
2. You Can Get Your Weekends Back
AP invoice automation means greater accounts payable efficiency. Transactions get processed faster, data is retrieved more easily, and best of all, the complete timeline from receiving an invoice to processing, approving, and filing it is drastically reduced. All of that means crunch time is reduced too. So, you won't have to put in overtime to make sure everything happens according to the schedule.
3. You're More Secure
With AP invoice automation, there's a lot more transparency. Checks can no longer be manipulated. Digital footprints track activities, so legitimate transactions are noted. The system tracks who accessed files and who changed them. Any illicit actions are red flagged along with who attempted to take that action. Fraud will be severely reduced with AP invoice automation.
4. You'll Need to Learn
A properly integrated AP invoice automation solution isn't isolated from the rest of the company. It becomes a part of everyday operations. When a new system is adopted, employees have to get up to speed with the technology. AP invoice automation is no different. However, with a willingness to learn the new system, you're not only adding a valuable skill to your repertoire, increasing your worth in the company, but you're also making your professional life much easier.
AP invoice automation is a solution, not a threat. By taking the time to learn the ins and outs of AP automation and associated technologies (digital document management), you can positively and efficiently improve every aspect of your work life.