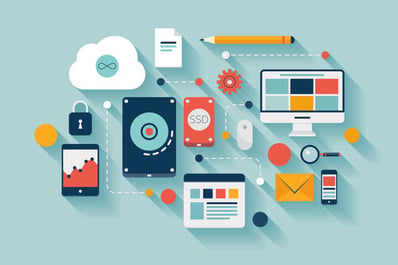 Now that you have converted your paper documents to digital files, it is time to find a good online cloud storage solution for your needs. With so many online storage solutions out there, however, it can be difficult to choose which one is right for your organization's needs. To help make your choice a little easier, we are going to list the four best online storage solutions and explain what makes them so great.
Why would I want to store my documents online in the first place?
Your new digital document management system has significantly improved your ability to manage your documents, so you may be wondering why you would need to make a change so soon. Using an online document storage solution, however, is not a change – it is an upgrade. Here is how it will improve your digital document management system:
Online storage allows you to access your documents anywhere
This is an invaluable capability to have. This allows you to provide instant file access to those who need it and you can even remotely mange them yourself. With the best cloud storage solutions (like the ones discussed below), you can even access your documents via peripheral devices like your mobile phone.
Online storage makes your documents more secure
With cloud storage, your data is doubly encrypted (while it is being transmitted and while it is dormant). Also, good cloud solutions implement security protocols beyond the IT capabilities of your company.
Online storage allows you to save more files
How many gigabytes of storage do you have remaining? Regardless of how large your internal storage solution seems right now, it will run out very quickly. Cloud storage gives you the ability to store an infinite amount of digital documents.
The 4 best online document storage solutions
ScanFile
The ScanFile online storage solution brings a whole host of quick and easy document management capabilities to your organization. In addition to connecting all of your documents via the internet or your company's intranet, it provides the following capabilities:
A search and view system that makes accessing your documents as easy as a Google search

The ability to capture the data from recently scanned documents

A modular design that allows you to save by only purchasing the features that you need
FileBound
FileBound provides a comprehensive array of cloud services, but it is a full-service document management system first. It allows you to manage and approve invoices, access files via mobile devices, manage any file format and even track physical files. This includes document management services for specific industries, including the following:
Auto

Accounting

Finance

Healthcare

Insurance

Home services

Human resources
FileDirector
Like FileBound, FileDirector is a comprehensive document management system with online document management capabilities. It gives you the ability to sort, access and manage millions of documents with no problem. Its automation capabilities streamline your workflows so that you can focus on other things.
C3 File Share
Like the rest of the online document storage solutions on this list, C3 File Share has capabilities beyond just cloud file storage. It allows you to sync and access your files from any device, from the computer at your desk to your mobile phone. It also provides added security by giving you complete control over who accesses each file with its Active Directory system.
Make sure that you are getting the most out of your digital document system
In order to take full advantage of digital files, you need to upgrade to a cloud storage solution. MES Hybrid Document Systems can help your company choose the right storage solution for your needs. Contact us today to learn more.