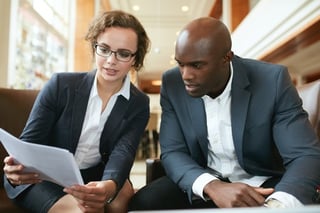 When you choose to work with a document scanning vendor, there are a variety of things you need to consider. The safety and security of your documents will always be a priority, but so too are things like vendor quality control, accountability, professional certifications and clearances. It's not just enough for a potential vendor to say that they're able to do a high quality job, but be able to prove it.
When choosing a document scanning company, consider the following questions and how they may positively or negatively impact your experience.
Quality Control
What is their standard level of quality control?
If their standards do not align with your expectations, can it be performed as an additional service?
Do they have a documented QC policy they can share with you?
Which level standards does their QC policy and practices conform to?
How do they handle the identification and removal of blank pages?

Accountability
Does the vendor use a system to track: Total images scanned, percentage of double sided, operator logs for preparation, scanning, indexing, image correction/rescan and quality control, quality control reports, scanner maintenance and cleaning?
Does the vendor have a current disaster recovery plan in place?

Certifications, clearances and compliance
Which of the following certifications, clearances and compliances does the vendor hold?
Public Works and Government Services Canada Controlled Goods Certification
AIIM Electronic Records Management Specialist
AIIM Enterprise Content Management Specialist
AIIM Capture and Imaging Certification
CAN/CGSB-72.34-2005 Electronic Records as Documentary Evidence Compliance
CAN/CGSB-72.11-93 Microfilm and Electronic Images as Documentary Evidence
Integration and Paperless Office Support
Does the vendor provide services to load/import the images and index values into your existing systems or is that the responsibility of the client?
What systems does the vendor have experience with?
What output formats does the vendor support for: image files? Index/metadata information?
Can the vendor provide scanning hardware to assist with your paperless goals going forward?
Does the vendor supply and support document management systems to assist with your paperless goals?

Capabilities
What was the vendor's largest scanning project?
When was it completed?
What was the timeframe it was completed in?
What is the vendor's average monthly scanning volume?
What is the vendor's current maximum capacity?