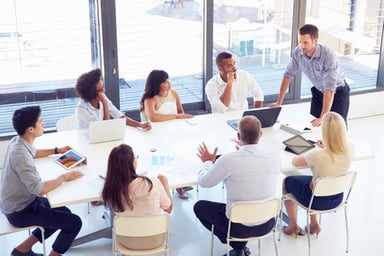 When you're planning to implement an enterprise level content management system, you need a flawless plan that will make sure the transition goes smoothly. When tens, if not hundreds, of employees rely on a content management program or software to do their jobs correctly, transitioning to a new program could result in a huge financial loss if errors occur. When you begin this transition, consider the following:

DON'T:
Try to cut corners on planning and preparation.

Rush into implementing the system without buy-in.

Rely on templates and a one-size-fits-all approach.
DO:
Interview your employees about their daily tasks.

Show employees how the ECM system benefits them personally.
As you plan your implementation, you want to have all stakeholders on board: executives, the IT department and the actual users. Too often, companies try to rush into implementation without taking the time to understand the needs of end users and explain the benefits of enterprise content management system. That tends to result in inadequate implementation planning and problems with user adoption further down the road. That's why it's so important to have all three stakeholder groups on board and ready to move forward.
To engage your users and gain their insights, interview the employees who will ultimately use the system about their current day-to-day processes, and show them how they stand to personally benefit from implementing the enterprise content management system.
For example, you might ask AP clerks to walk you through how invoices come in, how they file them, how they forward them and then highlight which aspects of the process they find particularly challenging. By having these conversations with users – as well as talking with the IT staff, sponsors, CFO, etc. – you build a comprehensive picture of what this implementation should look like, rather than relying on a one-size-fits-all approach.
These conversations are a great opportunity to ask users what they would like to see in the enterprise content management system solution and where the current system is failing them. Also ask them to imagine what their workday would be like if they could simply sit there and retrieve any document with a mouse click, instead of having to search different file cabinets or run down to the basement to find a document. This helps employees envision how implementing ECM is in their own best interest.
While these conversations are important for getting the implementation details right, there's also a psychological aspect. By going through this process, you ensure that everyone feels like they've been heard and that their input is valuable, which improves user adoption.
In addition to getting everyone on board, make sure you look at all of the different angles when planning your implementation. Here are some important topics to explore:
1) Existing IT infrastructure (hardware, software and line-of-business applications):
Assess your current operating system, on-premises and cloud-based infrastructure, storage system, scanner hardware and key line-of-business applications.

2) Individual workstations and the larger network:
Are your current workstation monitors large enough for users to manage electronic documents and line-of business applications side by side? If not, you might want to provide dual screens for some workstations. Decide where and how you'll provide access to any additional hardware employees might need, such as document scanners and a barcode printer. Also consider whether you want to give others access to your ECM system, such as satellite offices, trusted vendors or key customers.
3) File storage:
This gets into the nitty-gritty of how your documents should be stored. How many file cabinets should you have, and where are they located? One central file cabinet for the whole company, or separate files for each department? Each approach has pros and cons.
4) Access rights:
With enterprise content management system, you're able to tailor access rights on a very granular level. Some individuals or job roles may only have read access to certain documents, for example, while others are able to write. Who should be able to store documents? Who shouldn't be able to print documents? Should some users only be able to view invoices that are below $5,000? The options are endless, but it's important to plan ahead.
5) Indexing documents:
Determine how you are going to index documents when they're added to your ECM system. Options include manual data entry, OCR (optical character recognition), linking to an existing database or any combination. Ultimately, the goal is to reduce or even eliminate manual data entry through a fully automated indexing mechanism. Automated, intelligent indexing offers considerable savings in time and money, so ask potential vendors if they're able to provide it.
6) Workflows:
Who is responsible for defining your current workflows? Are they straightforward, or do they contain built-in decision points? For example, a purchase under $1,000 may require fewer approvals than one that's over $1,000.

7) Systems to integrate with your ECM:
Look at how document management fits within the software ecosystem used in your organization. In accounts payable, for example, a lot of the information related to your invoices is already in your accounting system, so it makes sense to integrate that platform with your enterprise content management system. Integrating these applications helps eliminate time wasted on rekeying data because it's already there.
8) Data backup:
Is the backup system you already have suitable for all kinds of data, or do you need a special one just for the ECM solution?