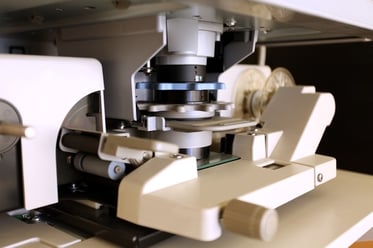 For years, microfiche technology has allowed organizations like yours to easily store its data in high volumes without taking up the same amount of space as a full sheet of paper. That being said, microfiche has been usurped by a more effective technology: the computer. Here are some reasons why you should have your microfiche images professionally converted to digital files.
Why you need to convert your microfiche images in the first place
Maintaining your current microfiche data will be less expensive
Although microfiche images save space over paper, they are still costly to maintain and even view. Having digital versions of these images makes the entire process much less expensive.
You will be able to retrieve your current microfiche data more quickly
Viewing a microfiche image is a time consuming process – since they cannot be clearly viewed by the naked eye, you will require equipment that allows you to view each image; this process is tedious, to say the least. When you convert your microfiche images to digital files, you are empowering yourself to be able to access all of your images with nothing more than the click of a button.
Your microfiche images will be more accessible
In addition to being able to retrieve your microfiche data more quickly, you will be able to retrieve it more flexibly. That is because there are a variety of digital solutions that allow you to access your microfiche data from anywhere with an internet connection.
You will be able to view your microfiche data with more clarity
Modern computer displays are in high-definition. This gives you the opportunity to view a newly digitized microfiche image with the highest possible clarity.
You don't have to worry about your microfiche data being irreparably damaged or stolen
Microfiche is a sensitive storage medium. As a digital file, however, your images will be highly secure against destruction because you can store, duplicate and manage them easily. This also improves your document security, since accessing a protected digital file is more complicated than walking in and stealing a physical object.
The benefits of using professional microfiche conversion services to get the job done
At the beginning of this article, we emphasized the fact that you should have your microfiche data converted by a professional service. Here is why:
Professional microfiche conversion services are less likely to accidentally destroy your data during the conversion process
Microfiche is very sensitive and when it is converted all at once, mistakes that can irreversibly damage your microfiche images can occur. A professional microfiche conversion service will have the experience and knowledge to convert any amount of microfiche data without accidentally damaging it.
Professional microfiche conversion services can improve the quality of your data
A professional conversion service will have the capabilities to run your microfiche through various digital and analog filters that clean up the image, thereby improving its quality.
Professional microfiche conversion services work faster than you can
Because of the care and special steps required, microfiche conversion can take quite some time. A professional conversion service, however, will already have a system in place to execute the fastest possible conversion. This also prevents the conversion process from being a distraction for you and the rest of your team, who could be doing other things with their time.
Bottom line: don't leave your microfiche data in the hands of an amateur
You use discretion when deciding who will handle your microfiche data for viewing and the same logic should apply when having that data converted to digital files. This is something that you should only allow an experienced professional to do.