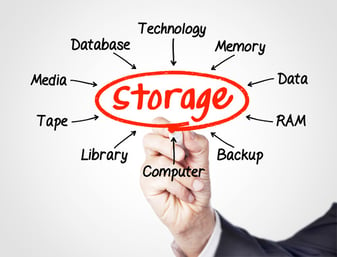 Much of your organization's data will matter as much in a decade as it does right now. As such, you need to explore long-term storage solutions to preserve it for as long as you possibly can. To assist you in this matter, we are going to explore the pros and cons of some of the most reliable long-term storage solutions available to you.
Paper
For millennia, paper has been a primary method of long-term record keeping. This is because of the fact that paper is relatively light and abundant. Also, paper records can be maintained indefinitely when stored under the right conditions. Unfortunately, because of its cost, space consumption and weight when used in large quantities, paper is the least efficient long-term storage solution on this list. It is also the most susceptible to accidental destruction, since water, fire, ink and many other things can destroy your paper records in an instant.
Blu-ray discs
A typical Blu-ray optical disc, which is 12 cm in diameter and weighs 3.5 oz. with a case, can store about 25GB, or the equivalent of up to 22.5 million pages of paper. According to Sony, the creator of Blu-rays, this storage can last up to half a century. This seemingly provides a great storage opportunity. Also, Blu-ray discs are inexpensive and can be purchased on an as-needed basis.You should, however, keep in mind that people are using devices that are not compatible with optical discs at an increasing rate (phones, tablets and even some laptops and desktops already come without optical disc drives).
Magnetic hard discs
This has been a staple of computer storage for decades. Modern hard drives can cram hundreds of gigabytes worth of data into a thin box that is between 6 and 9 cm in diameter. Their consistency, ease of use and reliability make the magnetic hard drive, or HDD, a top long-term storage solution.Unfortunately, most HHD discs should only be relied upon after about four years. The low cost of HDDs, however, make them easy to replace.
Solid state storage
Solid state storage, also known as SSD or flash memory, represents the best long-term storage solution that you can keep on-site. Not only can it store information at a rate equal to that of HDD storage, but it is also more reliable than any solution discussed above. Many flash storage solutions are waterproof, shock-proof, dust-proof and can theoretically last up to a thousand years.Although SSD memory tends to cost more than Blu-ray discs and HDD drives, it is still a much less expensive option than paper due to the amount of data it can store; its reliability and durability more than make up for the initial cost.
The cloud
The cloud has the unique benefit of being everywhere. This means that your documents can be accessed anywhere at any time, as long as you have access to the internet. Also, your data is even safer when you use a cloud storage solution, because it is in a highly secure space at all times, no matter what happens at your office.
You can make your data capable of being stored via any solution listed above
Even if all of your documents are paper, you can easily convert them to digital files so that they can be used via any of the long-term storage solutions discussed above. Also, make sure that you use document management software to keep everything organized and manageable. Make sure that you choose a solution that will ready your documents for the long-haul.