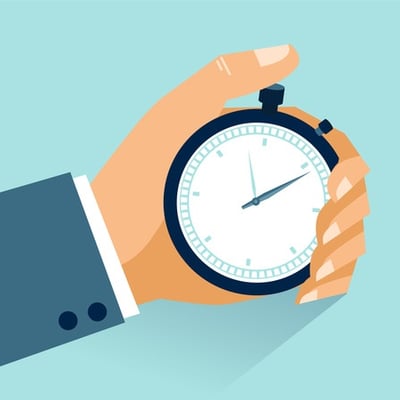 The average employee wastes over three weeks per year while they are on the job. This means that if you pay an employee $100,000 per year, then you are wasting nearly $6,000 annually – on just that one employee. Much of this waste comes from tasks that hinder your employee productivity, so you can save by cutting the fat out of a person's daily routines at your company.
One of the most time-consuming tasks that employees at every company undertake is creating, destroying, sharing, searching for and generally managing documents. Fortunately, this is a problem with a clear solution. The best way to increase employee productivity is to implement a document management system (DMS). Let's take a look at why this is so beneficial, and how you should launch and execute your DMS.


Why does my company need a DMS?
Faster document production
Regardless of how fast a person can type or how skilled they are with office software, creating documents will take time.
A DMS reduces the amount of time invested in the creation of each document by creating a more efficient workflow pathway for your employees to follow.
Faster document distribution
Under normal circumstances, the difficulty of sharing documents can range from a slight nuisance to a major disruptor of your business. If, for example, a document needs to be distributed to key personnel for approval or editing, but those persons are unavailable, then you will have to indefinitely halt the process.
A DMS makes it possible to distribute documents to anywhere in the world within seconds.
Less redundancy
Unless you're an accountant, double-entry probably isn't necessary. However, there are activities in your company's workflows that include unnecessary redundancies. In many cases, such waste can continue unnoticed for years.
A DMS allows you to quickly identify and eliminate any unnecessary redundancies that your company faces.
Fewer document-related mishaps
The accidental destruction of a vital document could be catastrophic for your company; improper sharing could be even worse. Unfortunately, your employees are people, so these happenings are possible. When something like this does happen, your negative employee productivity becomes more costly than ever.
By implementing a DMS, you are protecting your business from document-related mishaps like the ones mentioned above. This is because a good system actively protects critical documents from destruction and manages document access.
Less time spent searching for documents
Sifting through files is one of the most wasteful tasks your employees undergo. Searching for a single document can take hours in some cases.
A DMS indexes documents and makes them as easily to find as information on Google, completely resolving this problem.


How do I effectively launch a DMS at my company?
Decide what your DMS needs
Your DMS should be designed exclusively to suit your company's unique needs. Work alongside of a DMS development expert to identify how your DMS should be developed, based on your company's actions and goals.
Prepare your company for your new DMS
Getting your company ready for the launch of your new DMS should include the following three steps:
Keep track of your DMS' effectiveness and actively adjust
You should never assume that the current state of your DMS is enough. Like all other business processes, you must adjust your DMS to suit the changes that organically occur in business. Use metrics to monitor your DMS and adjust as needed.


Cut back on waste with a system that works
When you have an effective document management system, your employees will become more productive than you ever thought they could be.