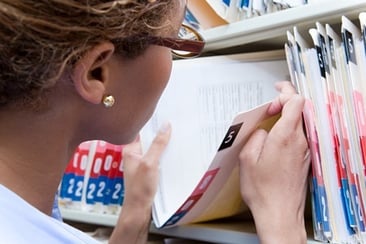 With the advances in modern technology, more hospitals and clinics are eliminating clutter, and opting for a paperless management system. Implementing paperless medical records in a busy medical practice can save time in billing, streamline office tasks, and free up needed storage space. Although the benefits of a paperless practice are clear, not all healthcare professionals have the resources available to begin the process. The choice to go paperless is both environmentally friendly and cost-effective in comparison with storing and accessing various patient files.

However, it is important to consider that transitioning to paperless medical records is a complicated process and protecting patient confidentiality is of the utmost importance. Medical practices do not need to make an all or nothing transition to electronic records, however, if you are thinking about getting rid of paper altogether, consider the following suggestions to help maintain your patient's confidentiality.
Getting Organized
Once you have determined your practice is ready to implement paperless medical records, it will help to determine how you will name and organize your digital files. With paper filing systems, you may have organized them by year, first and last name, or kept them in alphabetical order. When choosing how to organize your files, there is no right or wrong way, so long as you remain consistent to protect the confidentiality of your patients.
File Storage
The next step involves choosing where to store your digital files securely, and technology offers plenty of options. Whether you opt for cloud storage, a network, or single computer use, the goal is to store significant amounts of confidential information safely.
Document Scanning and Software
To begin the switch to paperless medical records, you should contact a document scanning company to start the process of transferring your confidential medical records. When you choose to purchase scanners and office equipment, it can be costly, and take up valuable time and resources. Utilizing a document scanning company is a cost effective and efficient way to quickly transfer your files so you can focus on the needs of your patients.
Now that your patient records are in the hands of a trusted document scanning company, there are a few important software investments that you should consider to ensure your patient's confidentiality. The first is a PDF software which is an absolute necessity for paperless medical records. A PDF software offers you the ability to create files, work in them, create text layers, and edit text. The second software purchase involves a solid backup plan for your online document storage and bandwidth. There are a variety of providers, and the choice is yours, but this is an absolute must to protect confidential client information.
Electronic Health Records and E-prescribing
Once you have purchased the equipment, scanned your files, and you have the appropriate software in place, you can begin implementing electronic health record and e-prescribing capabilities. Both tools enable healthcare providers to manage patient records, prescribe medication, and perform a variety of other tasks electronically.
The transition to paperless medical records can be a seamless process that offers practitioners a streamlined workflow and increased productivity. By following these simple steps, and keeping patient confidentiality a priority, you can utilize digital technology to become a paperless practice.