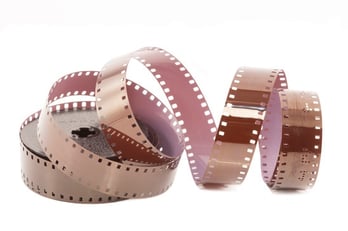 Although many businesses, organizations and institutions have relied on microfilm to archive their media for historical purposes, it's now more efficient and in some cases a requirement to convert microfilm over to digital media as the initial source for records management. Microfilm conversion services can be a lengthy, technical and specialized process. If you are seeking to hire a company to convert your microfilm, it's important to know what questions to ask in order to receive quality microfilm conversion services.
When choosing the right service to convert your microfilm, it's important to select a company capable of fulfilling your specific business needs, who is able to manage the level of work and has the right technology to protect your documents, files and media safely and securely. Below are some questions you can ask when selecting microfilm conversion services.
How long have you been in business?
A company that has been in business for many years will have the technical expertise, the business processes as well as consulting ability in order to provide the best, affordable and superior solutions for your document management requirements.
How is document security handled?
Microfilm has been a media archiving method for decades. Medical facilities, governments, and educational institutions have used microfilm and in many cases have valuable and classified information on them. When selecting a company, choose the one that has a physical office, has achieved certification, has a secure infrastructure and business processes. One top certification is the Certified Federal Controlled Goods Facility certification.
What makes your conversion services competitive?
When choosing a microfilm conversion service, select a company that advocates and values industry standards. Examine the prices for the services across service providers. Lastly, most services require a level of customization. Choose a company that offers custom solutions that will fit your tailored needs.
What is the process for delivering services?
Choose a service that has a solid supply chain process. An efficient business process is one that has controls and assurance that each process is correctly managed. If you can track the conversion process from the pickup of your media to the delivery of your media, then you know you are working with an excellent service provider.
What are the microfilm formats that can be converted?
Finding an all-inclusive microfilm conversion service provider can be difficult. Your goal should be to select a service that has the resources and capacity to scan aperture cards, microfiche and microfilm in all formats. Formats include 16MM, 35MM, simplex and duplex.
How is microfilm images delivered?
There are multiple formats and file types the media can be delivered. For example, images can be saved as a PDF or TIFF files. The media can be scanned digitally, placed on a DVD or CD. A quality service has the ability to filter and enhance the images to deliver the highest level of quality possible.
What type of hardware is used to scan microfilm?
The best companies will have invested in the best tools, resources, technology and hardware. A high-end microfilm converter will have the proper hardware, such as a UScan system, which will provide the necessary economies of scale. This will enable the business to provide fast and efficient services to their customers. The UScan, typically found in museums, libraries and business offices, is a cost effective solution that enables you to scan and save images across numerous file types.
You don't have to limit yourself to only these questions when choosing microfilm conversion services. By doing the proper due diligence, reviewing the companies offerings and overall expertise, you can become confident in making the right decision.