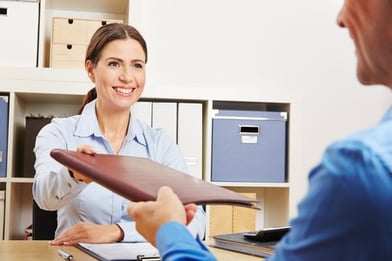 Employee engagement and loyalty are difficult to maintain high, which is why companies need to put together a solid employee retention strategy. According to a Mercer survey, 34 percent of the professionals questioned plan to leave the organization they currently work for within the year. Gallup studies paint an even more troublesome picture – 51 percent of workers want to leave their current job. The average employee in the US spends 15 months at a certain employment position.
HR professionals play an important role in boosting engagement and enforcing a solid employee retention strategy. A few approaches can deliver good results in terms of maintaining a high level of loyalty. The selection of good HR document management software is one of those.
Readily Accessible Data
The best employee retention strategy is based on readily available data. An Oxford Economics survey concluded that just under a third of managers say their HR team provides key analytical data across the enterprise.
Having information about employment strengths, weaknesses and performance is one of the essential for devising an actionable strategy. Employee retention programs tend to deliver the best results when they address specific issues within the organization.
HR document management solutions make vital data more accessible. Using the right metrics for employee performance, coming up with patterns, analyzing strengths and weaknesses and relying on big data for decision making are all vitally important.
The right technology makes it easier for HR professionals to analyze large volumes of data and pinpoint the most important trends. When such information is presented to managers, it can result in much better customized retention policies.
Higher Productivity
Technology enhances the work of the HR department and leads to a higher level of productivity.
HR document management systems reduce the risk of error, the need for manual data entry and document editing due to mistakes. When such menial tasks are handled quickly and efficiently, HR professionals are left with doing the strategic thinking and focusing on employee retention.
Not only is data more readily accessible, it's more accurate and easier to classify. A lot of time will be saved in the process. An employee retention strategy isn't easy to put together and to enforce. This is one of the main reasons why so many companies fail in terms of boosting engagement – they simply don't have the human resource needed to make it happen.
Data-Driven Decisions
Building the perfect team that is characterized by a high level of productivity is an essential part of the employee retention strategy. This is why HR professionals will often be faced with having to make major decisions on the go.
Deciding about letting professionals go or promoting the ones that deserve it the most play a massive role in maintaining a high level of engagement. In order to deliver the desired result, however, such decisions should be based on performance assessment and actual data.
HR professionals need to maintain detailed records in order to do their job. HR document management systems are ideal for the creation of employee profiles and performance assessment documents. When information is required, such data can be pulled from the archive. Thus, managers and the HR team will find it much easier to do human resource changes that are reflective of performance.
Human resource experts deal with many tasks, some of them trivial and standing in the way of strategic improvement. The situation can change through the selection of the right HR document management program. It will free up a lot of time and help department reps make solid, data-based decisions.