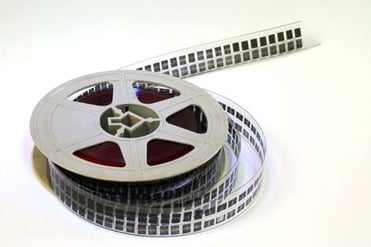 Over time, microfilm and microfiche collections can become almost unreadable due to improper storage conditions. Poor storage of microfilm can result in the growth of fungus, redox, and other lasting damaging effects. Aside from damage that occurs due to natural aging and improper storage conditions, there's no telling when a fire, flood, earthquake or even something as simple as a spilled cup of coffee could damage your microfilm collection.
To prevent against data loss, it is absolutely essential to scan your microfilm as soon as possible. But is your microfilm or microfiche already too damaged for a microfilm scanner?
If your acetate-based microfilm is exposed to fluctuations in temperature, humidity, or pollutants, it can rapidly undergo chemical degradation. One of the by-products of this process is a strong smell of vinegar. If your microfilm smells like vinegar, deterioration has begun – this is referred to as "vinegar syndrome". In this case, digitization should be performed as soon as possible to retain the most information.


If your data is stored on a nitrate-based film (commonly used from 1890-1950), it can begin to yellow in colour and become sticky as nitric acid is released. Most negatives will retain their photographic detail up until this point if handled carefully by a microfilm scanner. If the film becomes soft or brittle, it will generally have no legible image.


If fungus has attacked your microfilm or microfiche, the resulting deterioration cannot be reversed. High temperatures and humidity can promote the growth of fungus and cause the microfilm emulsion to become tacky. Should you go to unwind the film for viewing in this state, the emulsion could be stripped away from the film base, effectively destroying the record.



If your microfilm is torn or becomes ripped easily, it will need to be handled with care. Film can become brittle over time, but can be repaired with proper splicing materials. Consult an expert to determine the right type of splicing materials for your film.
Microfilm scanners can capture up to 800,000 images a day from microfilm. Though images can be cleaned up using advanced software for the best quality possible, it all depends on the starting condition of your film. To avoid potential problems with scanning, to monitor your microfilm collection regularly and ensure it is stored in a climate-controlled facility. Of course, the safest way to retain this information is to have it professionally converted to digital form.
If you'd like to learn more about microfilm scanning services, or to find out if your microfilm can be digitized, get in touch with MES today. We'd love to explain how microfilm scanning will protect your important records and improve access to your information digitally.