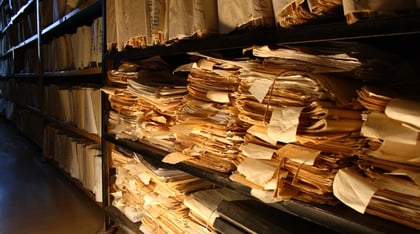 As your company's collection of data grows, you will need to find more effective ways to retain data that you don't regularly access, but need to retain. This is where data archiving comes in. However, data archiving isn't as simple as tossing your documents into a folder – digital or physical – that you won't access very often. Improper data archiving will make your documents harder to manage, cost you money and even cause accidental destruction. The only way to avoid this is to know what data archiving pitfalls there are, and how to avoid them. To this end, make sure to avoid the following errors associated with data archiving.
Using physical data archives
This is the biggest data archiving mistake that you can make. Physical archives cause a few problems. First of all, they take up a lot of space. This means that you will have to spend thousands each year just to retain your archived documents. Second, they are extremely vulnerable to destruction. If a paper archived document is exposed to light, water or many other things, it can be destroyed. Because you have to physically sift through them, they are also difficult to manage.
Always use digital archiving to avoid these issues.
Creating formatting errors
The format in which your data is archived is critical. It must be compatible with your current software. Otherwise, it's just a worthless file on your computer. Make sure that you always create your archives in a usable format. If you haven't been doing this, then have your archived files converted ASAP.
Using an incorrect or outdated storage medium
You don't want to store your archived data on a storage medium that you won't be able to access a few years down the line. It's critical that you regularly update your archives to avoid this problem. For example, a couple of decades ago, one of the best ways to archive data was via a floppy disk and cassette tapes. In order to retain access to your data, moving it over to a hard disk or flash memory was required. Some archives, however, were just ignored. You never know when you will need to access your archives, so it's key that you transition them to a useful storage medium.

Find out how using a shared drive as a document management solution can be harming your business in this infographic.


Using storage mediums with short shelf lives
Although they can seem indestructible, digital storage solutions are not immortal. They wear down over time, meaning that your archived data will eventually degrade. The key to preventing this from affecting you is to use the right storage medium.
Some storage mediums like magnetic hard drives, for example, can't be trusted to last for more than five years. Other storage mediums like solid state memory, on the other, hand, can last indefinitely with light use. The best way to retain your archived data is with a business-class cloud solution. These will prevent your data from degrading by using the best storage mediums, and updating them as necessary.
Poor security for your data archives
We understand that your archived data isn't accessed very often. However, hackers aren't only trying to access the files that your company regularly uses. You will be digitally attacked at every angle. This means it is possible that intruders could try to gain direct access to anything, including your archived files. The only way to prevent this is to protect your archived files with the same digital security that you use to protect your files that get regular use.
Are you properly archiving all of your old data?
Protect your archived data for the long term by avoiding all of these data archiving mistakes.