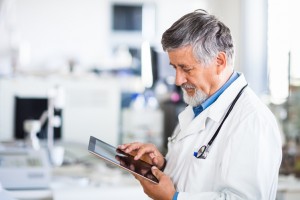 Electronic medical records allow physicians to access patient information. Just as with any other type of office, space is a precious commodity in medical practices. Yet many offices are arranged inefficiently, devoting more space to celling-to-floor shelves stuffed with manila folders than to patient seating. With an increasing number of general practitioners and family doctors reaching patient capacity, space and time saving measures have never been more important.
However, colour coded files doubling as wall art may be a thing of the past. Electronic medical records (EMR) are quickly becoming the document management system of choice for Canadian doctors. Partial or exclusive use of EMR has been trending upwards over the past decade. Statistics from the 2010 National Physician Survey show that 41% of family and general practitioners use EMR to store and retrieve patient information, compared to just 16% in 2004. While only 22% of physicians exclusively use EMR in their offices, this number is expected to jump significantly. 89% of family medicine residents surveyed said that they intended to use EMR once they have started their practice.
The benefits of digital medical records go far beyond reducing paper. EMR provides ease of access to information, giving medical providers a complete picture of a patient's medical history. The transfer of files between GPs and specialists could be almost instantaneous in a digital format. This means quicker diagnoses, the elimination of duplicate lab tests, and more accurate treatment and prescription options.
My own physician has transitioned to electronic records, and his patient workflow has improved significantly. Originally, questions would send him searching for newly arrived lab results or additional paperwork. Now he rarely leaves his chair during an appointment. Instead, he pulls up records on a LED screen and prints forms and prescriptions from his desktop. Overall, waiting room times have shortened, and he's even moved to a new office—one with double the reception space and a fraction of the shelves.