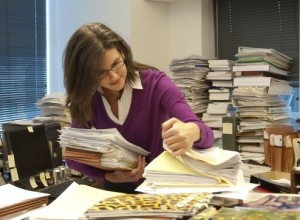 Anyone who's been a customer --just about everyone-- can describe an instance when they've received less than stellar customer service. The scenario is all too familiar: you call to inquire about a policy, a warranty, or an incorrect invoice, only to have to wait forever for an answer.
On the business side of things, negative customer service experiences are more the product of inefficient access to information than a surly, unwilling representative. In a competitive market, companies cannot afford the costs generated by delays and lost business. Here's some ways that document imaging services can resolve workflow issues and improve your customer interactions:listening to endless recorded announcements, or you're treated to paper shuffling and sighs of frustration. By the time you receive a response, satisfactory or otherwise, you're ready to take your business elsewhere.
Faster File Retrieval
Digitized documents can be found in a fraction of the time it takes to flip through a stack of papers. Searching for hardcopies requires staff to leave their seats, locate the correct cabinet, and then sift through non-related documents to find a specific page. Alternately, the same document stored as an image on a computer can be pulled up with just a few keystrokes. This eliminates the need for long holds or call-backs.
Flexibility in Your Search
Documents scanned into images can be indexed in multiple ways. This is extremely helpful when you don't have all the details. Has a file been indexed incorrectly? Search by invoice date, policy number, product number, etc. Misfiled paper documents don't have these retrieval options, which could result in an indefinite response time.
Quick Fix
The latest in OCR technology means that image files can be edited with ease. There's no need to re-draft a document from scratch. Make updates and send copies directly to your customer's inbox.Remember, products and services can be easily replicated, but good customer service is what sets businesses apart. Contact us to find out how document imaging services can give your company a competitive edge.