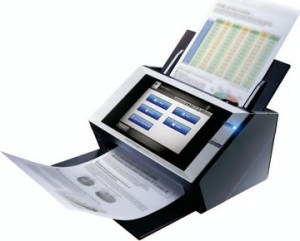 Whether your company is just starting to convert documents into digital files, or you've been happily scanning for some time, there are clear advantages to investing in a network scanner. It goes far beyond having the trendiest office equipment; network scanners can significantly improve the efficiency of your day-to-day operations. Features include:
Stand-alone Functionality
Unlike their predecessors, network scanners do not need to be plugged into a computer to work. The large touch screen and built in software drivers allows users to preview scanned documents, change file formats, and determine the destination of documents without a mouse or a keyboard. For example, documents can be sent directly from scanners to shared folders on your company's network or to specific emails. Additionally, the stand-alone functionality enables scanning across your entire office without having to invest in a scanner for each employee.
Customizable Profiles
With the ability to create multiple user profiles, one scanner can easily be shared by several individuals or departments. Job function buttons are programmable, offering one-touch scanning options that are based on each user's preferences.
Enhanced Security
Network scanners use highly secure login authentication and transmission protocols (SSL), keeping sensitive information safe through data encryption. Also, managers have the option to limit access by designating authorized usernames and passwords.
Looking to upgrade your scanner? Click here to contact us for advice on choosing a network scanner that best fits your needs.