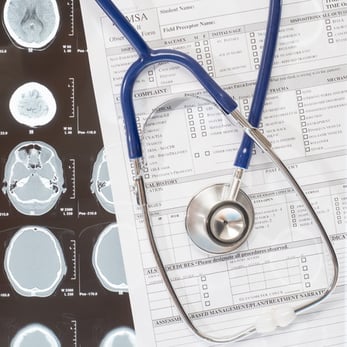 Using digital medical documents – instead of paper – is absolutely the best course of action for all medical organizations. This is because it saves money, streamlines document accessibility and improves document security. This means not only creating digital documents for the future, but also converting your current paper documents to digital files. But, like all medical organizations, yours has mounds of paperwork that needs to be converted, so how should you go about making the switch? The best way to go about medical document scanning is to hire a professional service - and here is why:
Medical document scanning won't get in your way
You want your medical organization's operations to be as streamlined as possible. To that end, servicing patients, completing research and coordinating with other medical organizations should be your top priorities -- not document scanning. A massive document conversion operation will get in the way of your ability to do what you do best when your team is handling all of the work. When you work with a professional document scanning service, your medical organization's employees can focus on doing their jobs, instead of scanning paperwork.
All of your medical documents get scanned quickly
You want to implement your brand new digital medical document management system as soon as possible. A professional document scanning service will already have the logistics in place to scan all of your documents as quickly as possible -- regardless of the total volume.
Your medical documents will actually be documents
When someone mentions the word scanning, capturing a digital image of a document usually comes to mind. Simply having your medical records turned into digital images isn't good enough, because you cannot easily manipulate, organize or access them in this form. In addition to converting your medical documents to digital files, professional document scanning services will extract all of the prose content from your documents so it functions just like a document you typed on the computer.
Everything gets organized for you
What do you do after all of your medical documents have been scanned? Simply having them on your network as digital files is great, but you are not fully taking advantage of the power of the technological capabilities that you are tapping into if this is where you stop. When digital medical records are properly organized, the efficiency with which you can use them skyrockets. Professional scanning services will organize your documents as they are converted.
Sensitive documents will be 100% secure
In the medical industry, security is key. You are dealing with all sorts of sensitive documents and you don't want the information therein to be compromised while you are trying to convert them from a less secure paper form to a highly secure digital form. A good document scanning service will have an entire system of checks and balances in place to ensure the security of your documents throughout the entire scanning process.
You will get help with managing your newly digitized medical documents in the future
A good document scanning service will have the know how to help you index and manage your digital documents in the future. As such, they will provide you with the tools that you need to instantaneously access, share, secure and archive all of your digital medical documents.
Take full advantage of the power of digital medical documents by having them scanned the right way
As one of your medical organization's most valuable assets, your medical documents should be treated with care -- especially as you eliminate the paper versions of them. Make sure that you get your medical document scanning done right by hiring a professional service.