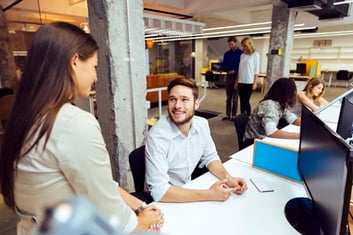 Going green at your office shows your commitment to sustainability and the future of our planet. An electronic records management system is a great way to demonstrate this. But not only is your paper-based system worse for the environment, it's also slower and hampers the ability of your business to grow.
However, switching from paper to paperless isn't easy. It forces you to confront the ingrained habits of your staff and show everyone that there are new, more efficient ways of doing things at work. So here are our 4 steps for getting everyone onboard for making your office green and start reaping the benefits.
Start with Discouraging Paper Usage
This is a simple but critical first step in having your office go paperless. Without shaking things up too much, there are a lot of simple ways to decrease paper usage. This includes reducing the number of printers in your office and requesting paperless statements from companies you do business with.
You can also track every employee's monthly paper usage and email it out in a report. Try having a contest to see who can reduce their paper usage the most during the first month. It's a great way to have fun and go green all at once.
Invest in an Electronic Records Management Software
If you are truly committed to going paperless, an electronic records management system is a critical investment. It will make switching your office to paperless so much easier. Who needs a stack full of papers on their desk when you can easily and quickly find the document you need on your computer? An electronic records management system also enables other key processes that help reduce paper usage.
Switch Up Key Business Processes
The next step you need to take to go green at your office is switch up paper heavy processes and switch them to digital. Your records management software has a key role to play here. Instead of printing and signing internal documents, you can use an e-signature. Replace paper forms with fillable PDFs. All of these can be automatically routed to your document management system after being saved.
Increase Productivity Without Paper
In addition to helping the environment, this is where the real benefit of an electronic records management software kicks in. Through establishing document workflows and process automation, your staff can be more efficient than ever. Instead of running an invoice down to accounts payable, your software workflow will simply do it for you. There are so many ways your staff can save time and be more effective than ever!
If you are ready to save time and money by going green to a paperless office, contact MES Hybrid Document Systems today!