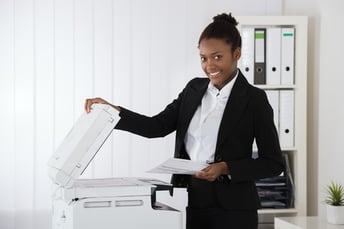 Imaging documents is a crucial part of your business' operations, so you must get it right. To this end, you must know common document imaging mistakes and how you can avoid them. That being said, let's take a look at the top five mistakes made while imaging documents, and how you can avoid them.
1. Making Too Many Copies
If you make to many copies while imaging a document, you have effectively wasted your time and money.
2. Making Too Few Copies
If you make too few copies, when imaging a document, you will end up repeating the document imaging process, or end up unprepared.
3. Using the Wrong Format
Choosing the right resultant format for your document imaging is critical. The format that you choose determines the longevity, portability and usability of your documents. In most cases, it's better to go with a digital format.
4. Destroying the Wrong Copies
During the document imaging process, you should be destroying redundant copies. However, there is a chance that you could accidentally destroy the wrong copies. This knowledge can cause you to be hesitant to destroy anything, resulting in many more copies than you need.
5. Using the Wrong Imaging Equipment
Improving your business requires enhancing your operational efficiency. Using the wrong equipment while imaging documents will be detrimental to your operational efficiency. That's because a slow document imaging tool takes longer to get the job done.
How to Avoid Mistakes When Imaging Documents
Use Reliable Formats
To avoid using the wrong format when imaging documents, you should choose a format that will reliably support your business goals. To this end, you should go paperless, as this allows you to avoid copy volume errors and completely control your documents.
Invest in High-Powered Imaging Equipment
To ensure operational efficiency, your imaging equipment should be able to handle a higher volume than you will need. For example, if you think that you will need to image a few hundred documents per day, invest in imaging equipment that can handle thousands.
Use Automated Tools
Automation gives you the power to manage versions and backup your documents. This ensures that you never have to worry about accidentally deleting the wrong version of a document.
Make Imaging Documents Easy
Imaging your documents doesn't have to be a frustrating, overwhelming process. Knowing these mistakes and how to avoid them will ensure that you can images documents seamlessly.